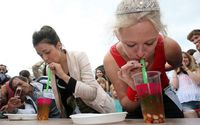 Bubble Tea is here. Actually, let us re-phrase that... Bubble Tea is Finally here!
The rest is up to you.
We regularly get enquiries from all over the UK and a large number of customers are asking us "how do I take advantage of this growing trend?"
Sadly, the grand majority of Bubble Tea shops are focused on one thing and one thing only. Price. Whilst price is important, it's not the end all be all. Quite the contrary. As more and more bubble tea shops open across the country, customers are now looking at flavour choice, at quality, at service, and those businesses that are right now looking at everything else alongside of price are the ones that are going to help Bubble Tea stay in the UK and not just watch it become a fad. A disappearing act like so many other things that have come and gone.
Bubble Tea is about having fun. It's not a smoothie, it's not a tea, it's not a milkshake. Bubble Tea is original, creative and it should be more than just a half thought of beverage that is poor in taste, too sweet and a drink that you can pretty much get at any bubble tea shop you walk into. It should be about an experience, it should be about making your customer have the fun that you have when you make it.
Engage your customers beyond the drink and the least thing they will think about is the other shop a couple of blocks away that is also doing bubble tea. They will remember you, they will talk about you, they will share photos of your store with their friends. The other shop? Was too concerned about price.