The Mystery of Juice Pobbles®
Hey there! As Bubble Tea mania continues to rage through our beautiful nation, you might be wondering to yourself, what are those squishy little suckers? And then, your next thought. Do I really want to know? If you're one of many people who aren't exactly sure what juice pobbles are, then rest assured that a) you're not alone, b) we've got you covered, and c) there's nothing sinister about those juicy morsels. We're here to fill you in on all the ins and outs of pobbles, what they are, what they're made of, how to make your bubble tea with pobbles, and why they're just so much fun!
The alternative to tapioca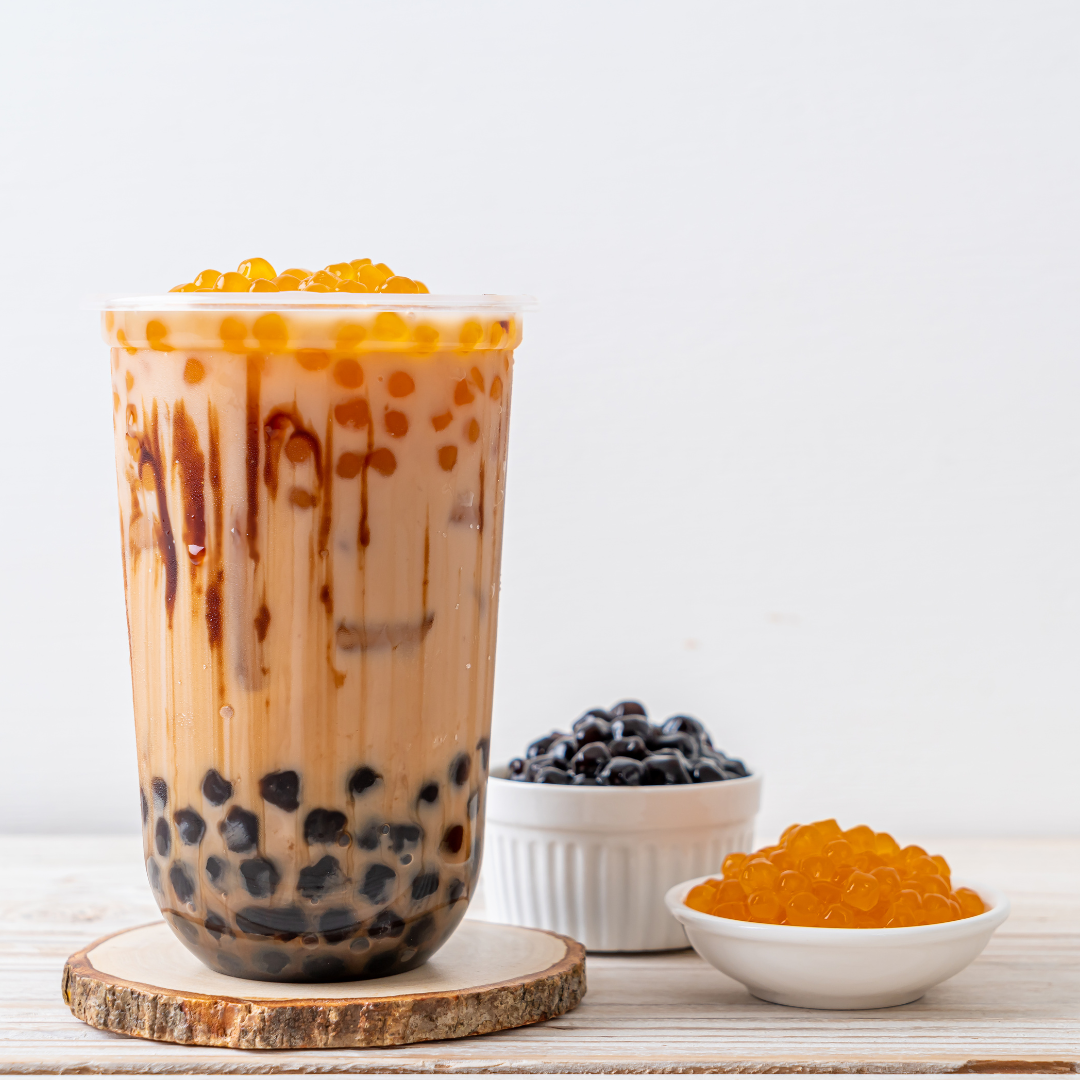 Typically, you'd find tapioca pearls as your bubble tea buddy. Traditional tapioca is caramel flavoured, chewy and dark in colour. Juice pobbles, on the other hand, are different because they're literally bursting with juicy flavours and are bright and colourful. Plus, they don't require any cooking, which is a win for all of you who want what you want, when you want it – you know who you are! Essentially, this means they're ready to go as soon as you scoop them up with a strainer and add them to your favourite tea. Suck them up through your chunky straw, and they'll burst with flavour in your mouth.
What they're made of
The outer jelly of Juice Pobbles is made with Agar, which means they're 100% vegan. Agar is a plant-based gelatin which comes from seaweed. So, to give you an idea, for the strawberry variety, the ingredients list is as follows: water, fructose, strawberry juice, thickener (starch), calcium lactate, acid (citric acid), seaweed extract, flavour, natural colour, preservative (potassium sorbate). This takes us nicely onto our next topic, flavours galore!
One of the great things about Juice Pobbles® is they come in a variety of delicious flavours, including blueberry, kiwi, lychee, mango and yummy strawberry. These juicy morsels are the perfect way to add some extra excitement to your bubble tea, and since they're not chewy like tapioca pearls, they won't get stuck in your teeth and are easy to consume.
How to make bubble tea with Juice Pobbles®
It's as easy as 1-2-3. This is what you need.
Juice Pobbles® of choice, your tea/beverage powder, pobble strainer, powder measuring spoon, hot water, cold water, ice, stirring spoon, and a 12oz heat-resistant container/cocktail shaker and a cup.
Grab your shaker and scoop in two scoops of powder. That's 15g per scoop, so a total of 30g of powder. Add a little hot water to the powder and mix it with your stirring spoon so it dissolves. Next, fill up your container with ice right to the top. Then add your cold water, pop on your shaker lid and give it a good shakey-shake – this cools your mixture down and gives it a frothy top. Then, grab a cup – and with your strainer, scoop up some Juice Pobbles (20g per strainer), and pop them in.
Finally, add your tea with ice, add your chunky straw and dive in, yum!
So now you've got all you need to know about these exciting jelly-like balls, which are bursting with flavour, are vegan and full of fun, making them the juicy alternative to dress up your bubble tea experience.
Visit BTH for all things bubble tea, Juice Pobbles® and more. Also, if you haven't already, don't forget to sign up for our newsletter for all the latest news and special offers.